Digital Marketing
With the world going all digital, the marketing domain has sky-rocketed into the global world through innumerable online channels. 
We at Digital Prizm converted all our offline efforts to online, with the increasing craze of online media being the most effective one. Our services include:
Content Writing 

Email marketing 

Viral Marketing

Moment Marketing 

Influencer marketing 

Performance marketing 

Branding and designing

Social media marketing (SMM)

Search engine optimization (SEO)

Website design and development

Social Media Marketing
Social media is the most booming and effective one so far in digital marketing. 
We at Digital Prizm provide out-and-out services, including:
Segregate the marketing channels as per brand need

Design marketing strategies

Content development

Measurement and analytics 

Execution and implementation across platforms

Email Marketing
According to the survey, professionals and individuals are 22.8% times more likely to open an email notification than web or app notifications. 
We at Digital Prizm understand the reach and effect of email marketing and therefore develop well-researched email marketing campaigns for brands. We build an overall strategy from scratch to aim for awareness, traffic, lead generation etc. The entire know-how about the brand is well presented to the audience via the email marketing channel with content auxiliaries like newsletters, PDFS, Coupons, Offer codes etc.

Vanity Marketing
In the Digital world, success is solely measured by the available metrics and not otherwise. 
At Digital Prizm, we believe that numbers seen through eyes make one understand if the strategy is working and efforts are going in the right direction. Using Vanity marketing, we keep track of email opening rates, follower count, subscriber details, etc., which helps us to alter the audience, budget and targeting right on time, leading to great campaign success for the brand.

Marketplace Management
With the market going online, it has become more crucial to manage it correctly, as one glitch can make or break the brand, especially during important dates and festivals. 
We at Digital Prizm help you manage the overall marketplace, including payments, orders, product placements, customer feedback, frontend/backend of the platform etc. Our marketplace management strategies are built with an aim to allow smooth functioning of the transactions and increased turnover for the business.

Performance Marketing
Performance marketing is one of the most in-demand and hyped-up marketing in recent times as it is cost-effective and gives desired results. 
We at Digital Prizm help the brands capture valuable data through various campaign metrics like Cost per click (CPC), Cost Per lead (CPL), Cost Per Acquisition (CPA) etc. via performance marketing campaigns like banner ads, search ads, remarketing ads, display ads and similar ad campaigns.

Search Engine Optimization
All your marketing efforts can go futile if your content piece is not ranked on the search engines and doesn't come at the top when your target audience places a query. 
We at Digital Prizm follow a six-step plan for generating organic traffic and leads for the web assets of the brand:
Business research and analysis

Optimization Strategy planning 

Implementation on the website

Monitoring bot activities 

Assessment of the applied strategy 

Maintenance of the performed activity

Whatsapp/SMS Marketing
Whatsapp and SMS apps come as an inbuilt service on any mobile phone, making them one of the main attractions of marketers to reach their target audience. 
We at Digital Prizm give solid importance to Whatsapp marketing and create an exclusive strategy to reach customers right at their fingertips with various content pieces. We mainly imply two strategies:
Whatsapp push services

– Broadcast to masses. 
WhatsApp chatbot services – Connecting via chatbot directly from the website or app.

Influencer Marketing
The world is just at our fingertips, and that's due to social media. As per the survey, 68.9% of the sale is driven by influencers' impact. 
We at Digital Prizm target three main types of influencers:
Micro-influencers 

Macro-influencers 

Mega-influencers 
Our main aim through influencer marketing is:
Expanding brand loyalty 

Brand awareness

Originally curated content

Targeting a new user base
Kalpafit
Kalpafit aims to increase its brand awareness and build an audience base with the help of a definite social media strategy.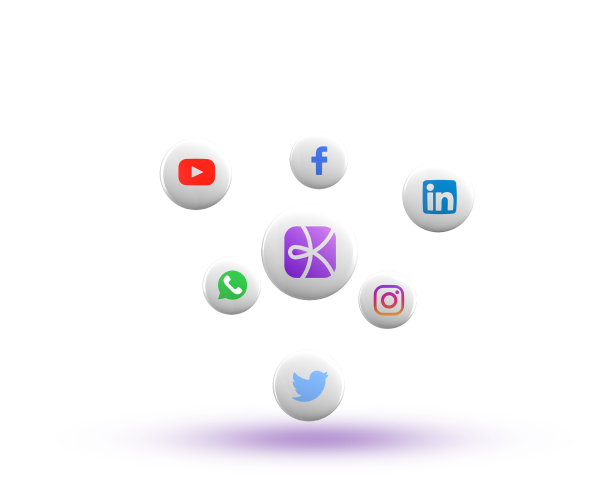 LEARN MORE
Waith
Waith.io is an affordable and easy-to-implement work management software that has CRM, HRM, Payroll, Finance, Project Management and more in a single platform.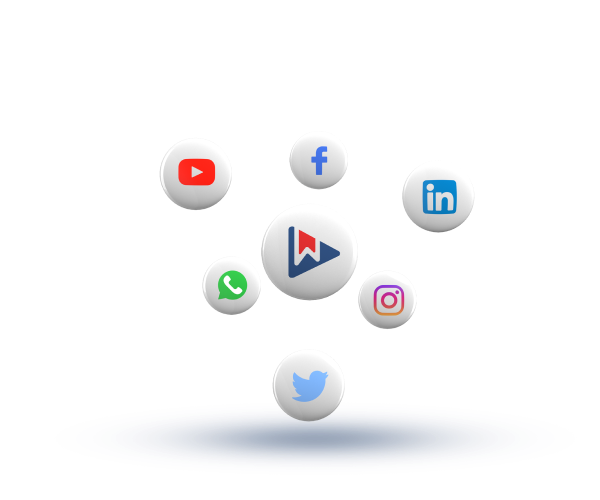 LEARN MORE
Branding
We at Digital Prizm believe – one of the reasons any company succeed is because its brand name is always on the tip of the tongue of its customers. Branding creates customer loyalty, which takes their game to the next level.
We work on the overall brand strategy, starting from deciding the colour schemes to campaign themes to creating a buzz that impacts the target audience right into their hearts and minds.