Google Analytics is the most widely used web analytics service as of 2019. Collecting data from websites and applications to provide insights for professionals, it's the most widely used web analytics tool. Analytics tools are rapidly becoming all the more comprehensive: They provide even more refined data of users thanks to the advancements in the field of technology, such as artificial intelligence. They also help gain precise insights into an end user's interaction pattern with a website.
Google Analytics 4, or GA4 is Google's recently released latest analytics tool. It is the newest version after Universal Analytics, the version that most professionals are familiar with and is one that's tried and tested for an extended period. 
If you're a GA4 user, there are many changes you must implement in order to make sure your business is still moving smoothly three years from now. Google Analytics can be used for almost any online business and its analytics are being used by more than 90% of online stores today. These days, you have many options when it comes to your website. How do you decide which one is right for you?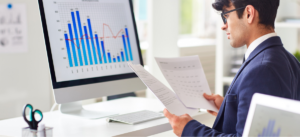 Key Similarities And Differences Between The Two Analytics Tools
Privacy and Use of Cookies
Google Analytics 4 (GA4) allows you to opt out of cookies and show visitors the correct message on your website. You can do this through the tools available in Google Analytics 4, which will also allow you to delete cookies when needed. The other advantage that GA4 has over Universal Analytics is its machine learning features, which relies less on cookies by filling in data gaps with information derived from user interactions with the site.
By tracking user behavior and interactions, GA4 can predict future transactions and revenue. This means that marketers can concentrate on the user journey from the first visit to conversion.
Session vs. Event-Based Profiling
GA4 tracks all client events as significant data streams in the customer journey rather than just concentrating on page views. GA4 analyzes events rather than sessions to measure user interaction with any site or application. One of GA4's main differences from Universal Analytics is that the former records every minute event, be it a purchase or a click or comment on a website. The latter, however, only records sessions.
Through its three new features, GA4 enables a richer user experience across all channels. The event-based analytics methodology and cross-device reporting in GA4 enable the optimization of websites and online experiences by creating a single user journey from the data. In contrast to the current Universal Analytics platform's overall user count, GA4 concentrates on the number of active users to provide a cross-channel perspective of the customer lifecycle.
Better Pathway Analysis
When making purchases, customers typically search for a product or service on a variety of websites. In addition, many sources such as blogs, videos and news stories provide tips for making the best choices for their purchase. Employee motivation is also important; if employees have high expectations for their performance relative to the competition, such as being more efficient at work than competitors, they are more likely to engage in positive behaviors (e.g., partnering with others), which can lead them to behave in positive ways that increase sales results.
Universal Analytics and GA4 offer pathway analysis; however, the pathway analysis for GA4 is much more advanced. Likewise, GA4 allows for an improved funnel analysis that keeps track of each step an end-user must take to complete a task, such as a purchase.
Better Conversion Tracking
GA4 conversion tracking is designed to provide marketers with a more complete picture of the actions taken by users, including events that occur before or after they make a final purchase decision. A conversion event can be as small as filling out a survey form, but can also include making a purchase on a shopping website. Conversions are typically recorded when the client registers a transaction for a product/service.
The Interface
In a nutshell, the interface in GA4 is much more simplified, and it allows for better segment comparison rather than comparing parts of the data for each step of an ultimate engagement. The interface also displays specific metrics that are useful to the marketing people who are not interested in heaps of data.
Conclusion
GA4 is more advanced analytics tool for your business. It allows you to see and understand in depth the data that drives your business, like never before. With a brand new web page and simplified interface, GA4 will only be accessible after a short acclimatization period